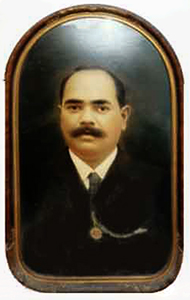 Frank De Fonseka married Victoria Evangeline Fernando from the family of  Eu Periano Mariano Fernando of Felix Villa, Kalutara. 

(Frank is the brother of Edmond Clarke de Fonseka listed in the genealogy chart. Frank together with another brother Luke and sisters Emmie and Louisa, are not listed in this chart. 
His wife Victoria died after giving birth to Dora de Fonseka. Later on he married one Maria Perera. )
Joseph Peter

 

(J. P) De Fonseka.
John Bernard De Fonseka md Violette Amybelle Fernando.
(Solicitor, Attorney at Law. He was the Counsel for Spain for 25 Years.)

Therese Rosemary De Fonseka, Attorney at Law.

Leonie Margo Jeanne De Fonseka

 

md Alston Clement Sydney Perera.

Jehan Perera.

Ajith Perera md Priyanthi.

Ranjan Perera md Marini.

Hiran.

Herma Clair Silviola De Fonseka md Joseph Wijetunga.

Melanie Celeine Loelia de Fonseka md Arthur Perera.

Euan Verrall Lucas De Fonseka md Premani Perera. 
(Named after E.V. Lucas (poet) by JP De Fonseka. He was the Counsel for Greece and Cyprus for 25 Years)

Brice De Fonseka. ( Died when small )

Hillier De Fonseka ( Died when small )

 

Mary Grace

 

De Fonseka md Francis Simon De Fonseka.

Complete details are found under the

 

James Fretz

 

family tree.


Dora Victoria Isabella De Fonseka

 

(Baptism 11/07/1905 / Death 01/11/1980)  md Hector Macarius D'Andrado.
---
The name in bold denotes the name generally used. A nickname if any, is given within brackets (in italics) . If a portion of a name is underlined, you can click on it, to go directly to that persons family/Personal page which will contain more details. The camera icon indicates the inclusion of any photographs.