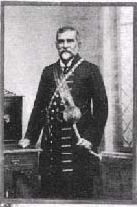 Simon Richard de Fonseka (Mudaliyar Salpiti Korale and Mudaliyar of the Governor's Gate) married in 1883, ( Louisa, daughter of Juan de Silva Jayasingha (d1902).
Born 1854, and entered government service in 1873. In 1886 he was appointed chief clerk of the Provincial and District Road Committees, Western Province. He married in 1883, Louisa the eldest daughter of Juan de Silva Jayasingha, and had six children. Invested rank of Mudaliyar by Sir Arthur Havelock, Mudaliyar of Salpiti Korale 10th September 1907, and Mudaliyar of the Governor's Gate, 22nd June 1911.
Mudaliyar S. R. De Fonseka was a prominent figure at his time and campaigned for the Karava. He was also one de Fonseka who achieved political stature, and was involved in the many campaigns to the then Legislative Council. He undertook the primary research on the D'andrado Documents, which led to the development of the family genealogy chart. This pioneering research leads the family to a documented history going back to 1658.
---
Family Tree of Mudaliyar S. R De Fonseka :
 Simon Richard de Fonseka Jnr md Henrietta de Fonseka, daughter of Henry Fredrick de Fonseka.
Lydia Florence de Fonseka Warnasuriya Wijetunge Samaranayake  md Godwin Jacob de Fonseka Samarawickrama Arsekularatne (son of Richard de Fonseka).

Dr. Godwin Joseph Nicholas de Fonseka ( Nicol  – B 6.12.1908)  md Kitty Benzie Campbell 1939.

Eric William Anthony de Fonseka  md Carmen Celine de Rozario (Australia).

Warren Nicholas de Fonseka 

Richard Godwin de Fonseka md Eldina Skrgic de Fonseka

Lana Skrgic de Fonseka.

Hannah de Fonseka.

Kian de Fonseka

 Theresa Florence Eleanor (Elaine) de Fonseka md Dr Basil Srisena Wijasuriya. (Malaysia)

Arjuna Adrian Wijasuriya md Sharmila (Sharm) Rajah

Ayanna Wijasuriya

Shamindra Wijasuriya

Kathleen Adele Mary de Fonseka. (Australia) died September 2012

Dr. Godwin Joseph Nicholas de Fonseka (Nicol ) md Maureen Cheah

Sita de Fonseka (Australia) md Chelan Goonetilleke.

Louise Mary Mansuetta de Fonseka md Valentine Simon Perera.

Vimal Mercelline Perera md Irma Marie Frances Perera (nee Waas).Lilaya Surani Marianne Perera.

Raja Perera md Philo Mather.

Ranee Perera  md Maxwell Fernando.

Ranmalie Perera md R. Warnapura.

Nalin Perera md Delrine Fernando.

Neomal Perera.

Ranil Perera.

Alexander Richard Neville de Fonseka (Marriage 10/02/1945 – Image from NCC) md Alice Lorna Christoffelz.

Ajit de Fonseka md Cheryl Wright.

Sylvie Rene de Fonseka md Dr Percy Stanley Goonewardene.

Prasanna Stanislaus de Fonseka Goonewardene md Lilamani Hulugalle.

Suren Goonewardene md Krishan Atukorale.

Praveer Goonewardene.

Nikhil Goonewardene.

Lilanthi Goonewardene.

Rohan Goonewardene.

Lallith Gunewardena ( 'Earlcliff') md Kumarini Madawala.

Sunil Goonewardena (U.K) md Priyani Cooray.

Dennis Lionel Adrian de Fonseka  (Marriage 26/01/1946 Lennie  ) md Florida Mary Claribel De Mel. (Belle)

Jithendra de Fonseka (Jit  ) md Kithmani Perera.

Suranjith de Fonseka.

Sarita de Fonseka.

Joseph de Fonseka (Joe – did not marry).

Yvonne de Fonseka md Pat Fernando.

Dinesh Fernando md Kumarini Dissanayake.

Duminda Fernando.

Sulochana Fernando.

Chihera Fernando.

Irosha Fernando.

Chitrika Fernando.

Lionel Stanislaus William Edgar de Fonseka md Noel Fernando (Daughter of Sir Marcus Fernando).
Author of 'The Karava Flag and 'Les Euax of Lumiere' etc.
Muriel Latitia de Fonseka (Murie ) md Arthur Donald de Fonseka (son of James Fretz de Fonseka).

See the James Fretz family tree.

Bridget Louisa Hortense de Fonseka (Birdie ) md Dr. Percy Augustus Mendis Jayawardene (Son of Alexander Mendis Jayawardene and Jane Jayawardene)

Iromi Jayawardene md Dr. Leslie Pieris.

Dr. Sriyal Pieris (Hongkong) md Sharmala Arsecularatna.

Shamil Pieris md Roshinie Goonewardena.

Shanez Pieris md Dr. Michelle Fernando.

May Elaine Imelda de Fonseka (Podi Anta) md Dr Leo Hugo Peiris Kurukulasuriya on 04.09.1924.
'Delma', 27, Elibank Road, Colombo 5.

Anton Pieris md Annette Mendis

Renuka Pieris md Gerard Mendis.

Shehara Mendis.

Anishka Mendis.

Dr. Trevor Pieris md Dr. Clytie Rodrigo.

Hilal Pieris.

Ashani Pieris md Manil Jayasinghe.

Cynthia Pieris md Gerry Waas.

Nilani Waas (Lawyer – Canada) md Rohith Fernando.

Ruann Fernando.

Tarini Fernando.

Amila Waas (Lawyer) md Yshan Fernando.

Swasha Fernando.

Ashen Fernando.

Shenali Fernando.
PHOTOGRAPHS:
Wedding of S. R. De Fonseka Junior, around 1916, taken at 'Arcadia'. All above Photographs courtesy of Kamini de Soyza.
---
The name in bold denotes the name generally used. A nickname if any, is given within brackets (in italics) . If a portion of a name is underlined, you can click on it, to go directly to that persons family/Personal page which will contain more details. The camera icon indicates the inclusion of any photographs.