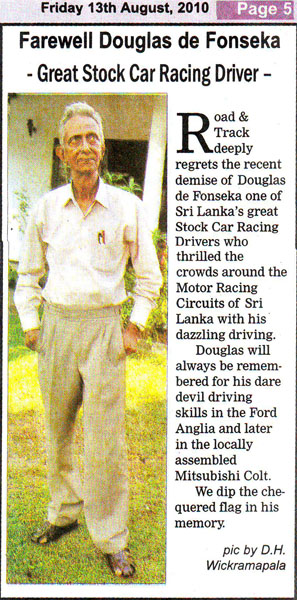 A  planter, stock car racing driver, Gentleman Rider, Boxer, Risk-taker, Billiard player, chorister, Rifle shooter, active Lion , Rotarian, Dog lover and True friend. He was a Sri Lankan and Thomian coloursman in Boxing & Rifle Shooting.  
Most people are not even able to achieve half of this list in a single lifetime. It is difficult, but not impossible.  
I can say this with confidence because my grandfather lived long enough to show me by example. A legend on the race-track and a true friend at heart, my grandfather, Lionel Douglas  Walter de Soysa de Fonseka, was one of the most unique individuals I have ever met.  
He was liked by everyone who was fortunate enough to have known him. I write this today as a celebration of his life – A life like no other. Although my grandfather would have turned 81 today, I am sure everyone close to him would agree that he was still a 25-year -old at heart.
Born into a family of nine, he was the eldest son of Dr. A E de Fonseka and Mrs. Phyllis de Fonseka nee de Soysa of Panadura. He was among the first group of boarders at St. Thomas' Prep school ,and always had happy stories of mischief to narrate about his school years. After completing his education at St John's College, St.Thomas' Preparatory school, St Thomas' Guruthalawa and St. Thomas' College Mount Lavinia, he began life as a planter at the age of 19, at the Panadura Tea and Rubber Company and was both a tea and rubber planter by profession.
He used to tell us that the tough bosses he had made him what he was and greatly appreciated all the experience he gained because of them. He was appointed President of the Planters' Association for Kalutara District, in his final years as a planter.
He married my grandmother in 1955 at the age of 25, and raised four children – Sheree, Ajit, Sheami and Dhyan. My grandmother still grins from ear to ear as she recalls happy memories of how he used to come on a majestic white horse to visit her at the Peradeniya University!
'All the girls used to peer over the balcony to catch a glimpse of the handsome gentleman on horseback and wonder whom he had come to see!' she tells me with a sparkle in her eyes.
I grew up in his ancestral home in Panadura surrounded by stories of racing, cricket, books and everything else my grandfather loved.  I can safely say that a great part of who I am, has been influenced largely by him. His genuine kindness and unwavering determination at everything he did, taught me never to give up and that through hard work and persistence, anything is possible.
His home was filled with pictures from his racing days – events and rallies won, championship cups etc. He was easily the most skilled driver I ever had the privilege of knowing and won almost every event he took part in.  My grandfather's kindness was truly incomparable. He helped anyone and everyone he could, without question. He spent a great deal of his free time at the Panadura Aruna Home, enjoying the company of the children there. Although he was an Anglican, this did not stop him from helping the Buddhist temples.
Like all grandparents, he spoilt me rotten. I know it is not possible to fit his whole wonderful life into a single article. This is not written in sadness or with any regret, but in celebration of a vibrant soul, unstoppable spirit, and the dearest grandfather.
Sending you plenty of my love, hugs and kisses wherever you are.
Your ever loving grand daughter
Shaneen Dewendre   
---
Source: http://print.dailymirror.lk/features/features/30763.html
Picture: Island Newspaper Friday 13th August 2010  (Dhayan de Fonseka)