Professor Earle de Fonseka was a case of exemplary talent in two fields – Music and Medicine. He qualified his M.B.B.S in 1948 and was appointed professor in 1968. He was also the Dean of the Medical Faculty from 1968 to 1988. In the field of western music, he was widely recognised, and received the honour of Kala Keerthi in 1988. He died in February 2000 and left his property to a foundation for the advancement of music.
---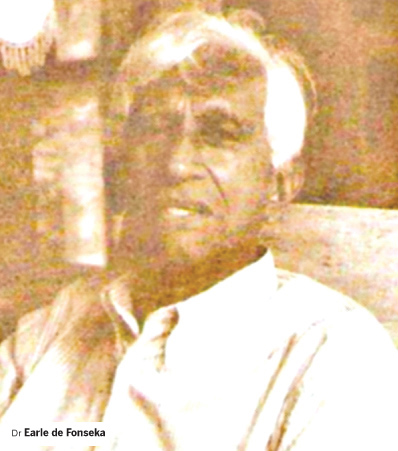 Earle de Fonseka was an exemplary case of talent plus discipline. He was the second of five children in the family of Dr Duncan de Fonseka of Elibank Road, Colombo. Mu­sic was part of the daily life of the de Fonseka family. As a schoolboy he went for daily mass at 5.30 a.m. Upon return home from mass he had himself to polish his sandals and go to his mother for a brief but compulsory music lesson before going to school. Every one of the de Fonseka chil­dren learnt music and went on to become music perform­ers. While all of them learned to play the piano, they also each learned an additional instrument. Dion played viola, Lenore cello, Earle violin, Carmel viola, and Christine cello. In 1943 Earle, already a Licentiate of the Royal Schools of Music (LRSM), was awarded a scholarship to the Royal Schools of Music, London.
Earle de Fonseka's contribution to the life of this country lies in two great fields – music and medicine.
In music he enriched the fabric of western music in Sri Lanka. He was the conductor of the Symphony Orches­tra of Sri Lanka from 1961 to the time he fell ill this year. He also conducted several light operas in Colombo, and the Catholic Choral Society. He was fond of cultivating live chamber music, and there was a meeting of players at his residence over the last fifty years to practice chamber music for private and public performances. He was a pia­nist with technique and expressiveness. I recall him play­ing the Chopin Berceuse with moving delicacy at a concert in King George's Hall some 55 years ago. He willingly gave his time and expertise for work on music curriculum com­mittees at the Department of Examinations, and he served as an examiner for the practical Diploma examinations. A man of high principles, he considered it fraudulent to charge money for an inadequately rehearsed programme. He was in favour of encouraging cooperation as in festivals of music rather than in musical competitions. He sometimes gave music lessons on request to talented individuals but never charged them.
His work in music was widely recognised in Sri Lanka. He received the honour of Kala Keerthi  in 1988.
There was a time in the early 1940s during the sec­ond world war when many first-class foreign musicians from eastern and southern European countries played in the Colombo hotel orchestras, and Earle Fonseka could easily have got drawn into them. He decided, however, to study medicine, because he drew inspiration from his fa­ther who was then a leading medical doctor in the field of public health. He qualified MBBS in 1948 and took to public health as his specialty. In 1953 he became a lecturer in the Department of Community Medicine in the Faculty of Medicine, University of Ceylon.
He went to Britain on study leave and took his PhD from the University of London in 1958. While there he played in the University Orchestra under Norman del Mar and in various chamber groups. Returning home, he spent much of his academic energy in developing the field study of public health by medical students. He was appointed professor in 1968. He was elected President of Section A (Medical and Veterinary Sciences) of the Sri Lanka Association for the Advancement of Science for 1985. He retired from the University in 1988, at the end of a two-year period of Deanship in the Faculty of Medicine, University of Colombo.
His death on 18 February this year, at the age of 76, is the passing away of a man who was a national treasure, and who remained active right up to the moment when an unexpected cardiovascular illness felled him. Such men must be commemorated in suitable ways. He was keen that his house and property in Layard's Road should become a center of continuing musical activity. The musical community in Sri Lanka is sure to help in the fulfillment of this his wish.
 Valentine Basnayake
 Ceylon Medical Journal, 2000; 45: 47  Vol. 45, No. 1, March 2000
Other Articles: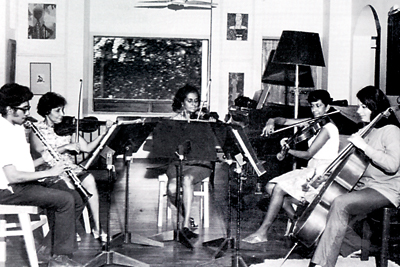 At post-concert parties, held usually at Dr. Earle de Fonseka's Elibank Road residence, Geoffrey Bawa would go up to Mother (Eileen Prins) and ask her to sing his favourite song, "Blue Moon", which happened to be her favourite song. Next to playing classical violin, Mother loved playing the role of chanteuse, and singing was how she relaxed after playing in a concert. She would stand by the piano and in a rich contralto sing favourites from the '30s, '40s and '50s. The 1935 Rodgers & Hart ballad was the hit of the evening, invariably.
The house Geoffrey Bawa composed for music lovers 
Stephen Prins, The Sunday Times, July 29th 2012
Kalakeerthi  Earle De Fonseka, a former Professor of Public Health and Dean of the Faculty of Medicine, University of Colombo, was a founder member and Conductor for several years of the Symphony Orchestra of Sri Lanka. He is better remembered as the spry black-bowed figure on the conductor's rostrum than at the professorial pulpit lecturing to doctors of the future. 
The Government of France honored Prof. Earle De Fonseka with the rank of Chavalier Dans and the musical professor was awarded the Ordre Les Arts et Lettres by the French Ministry of Culture in 1991.
Charles Amerasekera, Canada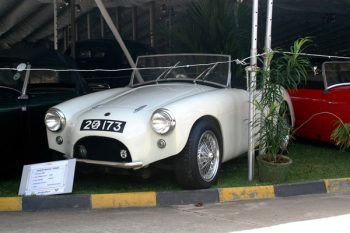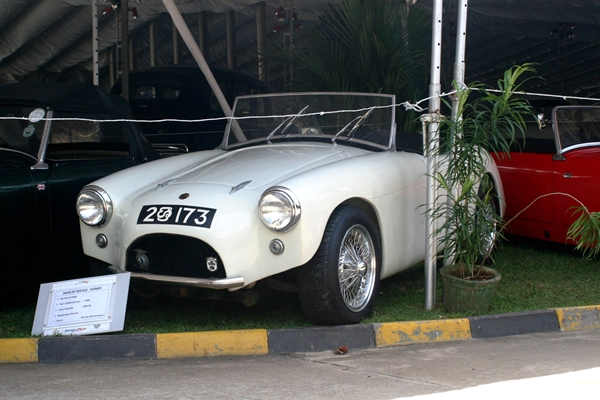 Social media platforms bring out many interesting things. In this case, my interest in classic cars, drew me to a recent conversation on a Turner sports car restoration in Sri Lanka. What was more interesting about the post was the fact that the car in question, a very rare two seater sports car made by
Read More »