Top amongst our list is the illustrious Joseph Peter De Fonseka (1897 – 1948), eminent author, lay OMI and a Papal Chamberlain. J P was a literary giant and a legend among the writers of his day counting amongst his close associates legends such as G. K. Chesterton, E.V. Lucas, Hilaire Belloc, and Robert Lynd. His work was published in many journals and the Catholic Messenger. Some of these articles have been sourced and reproduced below for the benefit of the present day readers.
J P De Fonseka was essentially an essayist and one of the greatest English writers of Ceylon, and undoubtedly our greatest Catholic writer. He is on par with the best of English essayists like Charles Lamb, E.V. Lucas, G.K. Chesterton or Hilaire Belloc. In fact he was natured in the Chester-Belloc school of writing.
J P's articles have appeared not only in the local journals but also in foreign ones as well; such as the New Review of India, the Catholic Digest of America, the G.K's weekly of London.
As Fr. Justin Perera has said, there never can be another J P De Fons. As a professor of English J P bestrode the corridors of St. Joseph's like a colossus. More-over he had the rare honour and distinction of being a lay OMI and being called to be a papal chaimberlain; for his intelect was ablaze with heavenly thought.
Leonard Obris, From the Preface to the book 'Select essays and verses of J P De Fonseka', 1988.                    
| | | |
| --- | --- | --- |
| | | |
| J. P De Fonseka | J. P By Collete | J.P by A.C.G.S Amarasekera |

Some selected works of J. P. De Fonseka 


  The Catholic Life is a daily living; a living from day to day, from hour to hour. A fair part of this daily life is taken up with the pure service of the life; the rest of it is taken up though it be with the secular, temporal or mundane functions, is lived in
Read More »
Excerpts from the book, 'Selected essays and verses of J. P. de Fonseka'


But it was almost childish that he accepted the honour of being made a papal chamberlain. J P cherished this gift from His Holiness above all things, and was eagerly preparing to go to Rome to be a chamberlain in fact and thus be near the Holy Father.
And now he has his heart's desire, for, from above he will be able to do more for the Holy father and for the Church and for all of us than he was ever able to achieve while on this earth. May his spirit live with us for ever.
Fr. Peter Pillai O.M.I, J P De Fonseka and the Chestor-Belloc school in retrospect, Blue and White 1949.
He had an infinite capacity to laugh at himself, particularly his great girth and other curicaturable features. He shared many jests with Chesterton, E.V Lucas, A.P Herbert and even Bernard Shaw. There was a delightful documentary evidence in his little house off Havelock Road of these intimate contacts with the famous.
Let us briefly review the contents of the full and happy life of this great good man. Outshining nearly every other student at St Joseph's College in his day and being cricket captain as well; obtaining the highest university degrees; becoming an advocate, but refusing to practice as he much preferred to teach and write; on friendly terms with famous literary men in England; editing Chesterton anthologies; a Papal Chaimberlain and Honorary Oblate of Mary Immaculate; a professor of English; a Doctor of Letters, and above all a true friend; a large hearted man and one who indeed filled a large place in our cultural life. We should not willingly let his memory die.
Hilaire Janz, J P De Fonseka , A Tribute. Ceylon Fortnightly Review
"The mouth of the just utters wisdom, and his tongue speaks of justice. The law of his God is in his heart, and his footsteps shall never waver".
May your footsteps never waver, dear Mr. De Fonseka, they have reached the threshold of the City of God. 
    For the rest, I am and remain,
    Dear Mr. De Fonseka, and my Dear Sir,
    Your friend and beneficiary,
Fr. Justin Perera, An Epistle to J P de Fonseka, Blue and White 1948.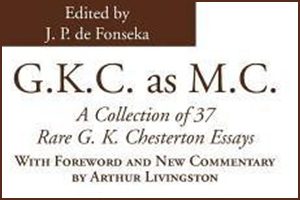 THE GENIUS OF GILBERT KEITH CHESTERTON A Review of "G. K. C. as M. C." edited by J. P. de Fonseka. By EDMUND J. COORAY. (From the Blue and White 1948) Mr. R. A. G. GARDINER has said: "No clamour, no book" is Mr. Chesterton's motto, as far as new books are concerned." That was
Read More »
The following tributes and essays have been taken from family documents and the book 'Select Essays and Verses of J P De Fonseka ' compiled and published by Leonard Obris, of Waikkal (1989).