DE LA VERITE DANS L'ART
Lionel de Fonseka Varnasuriya – Copyrights by Editions CHITRA, Paris, 1930 DIALOGUE ENTRE UN ORIENTAL ET UN OCCIDENTAL
---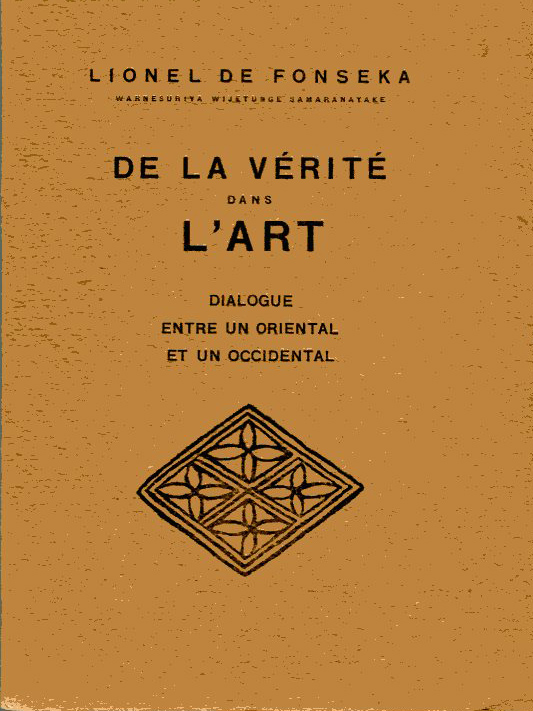 This book, again written entirely in French by Lionel was translated and published as 'The Truth of Decorative Art' and discusses the western influence on the arts and people of Ceylon
DE LA VERITE DANS L'ART is the first book to be written entirely in French  by Lionel de Fonseka, scholar and author of 'The Karava Flag'. The book discusses art and influence on life life, and very specially it's effect on the people of Ceylon during a time of unceasing western influence. The book has been subsequently translated into English and published by Henry Holt and Company in New York around 1914, as 'On the Truth of Decorative Art'. 
In it's presentation, the book conducts a dialog based on the Oriental and Occidental views. (Occidental: meaning a member of one of the occidental peoples; especially  a person of European ancestry). 
The book is dedicated in respect and affection to Simon Richard de Fonseka Warnesuriya Wijetunge Samaranayake, Mudaliyar of the Gate, and Mudaliyar of Salpiti Korale, Ceylon. Lionel was the son of Mudaliyar Simon Richard de Fonseka and wrote this book after his years at Oxford, England.  After his studies he lived and worked in France and Belgium for over 10 years. A few years later he wrote his second book in French, called 'Les Eaux de Lumier', about the apparitions of the Virgin Mary to three little children in Fatima, Portugal.
In the preface to the book Lionel discusses the following;
This dialogue is written primarily for the people of Ceylon. Sinhalese art has hitherto been strictly decorative; and as a Singhalese I view with regret the modern tendency in Ceylon, under Western influences, to abandon our traditions in art and in life. It seems to me that Eastern peoples need to realize at the least that art, education, civilization, admit of a plural; also that what is fortuitously predominant is not necessarily intrinsically excellent. It is regrettable that the rise of Western commerce should involve the decline of Eastern art; but though regrettable, it is not inevitable.
I would remind the Singhalese people of the best traditions of our art by calling to mind a work of our King, Detu Tissa, an artist of the 4th century, who in the words of the Mahawamsa, "was a skilful carver, who executed many arduous undertakings in painting, and taught it to his subjects. He modeled a statue of Buddha so exquisitely that he seemed to have been inspired; and for it he made an altar, and gilt an edifice inlaid with ivory."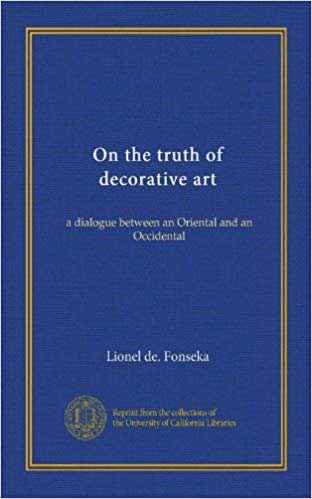 His wish may have come true, as the book has been received positively in Ceylon, and influenced many artist of that time who were trying to break free of the western influences and find a style of their own. The following account is found in a book by Neville Weereratne on 'The Art of Richard Gabriel' (page 46). He quotes S P Amerasingham. 
Gabriel's work was sought after by discerning critics like Lionel de Fonseka whose book "On the Truth of Decorative Art " is held to be a classic of it's kind , influencing Ananda Coomaraswamy, Romain Rolland and Eric Gill in their time. De Fonseka had two Gabriels in his collection, 'Virgin & child' and a narrative painting called 'St Francis and the poor man'.
Neville Weeraratne, renowned artist now settled in Australia recalls the days he used to meet Lionel, and gives us an 'insight ' as to why he wrote this book. Writing specially to this web site thru his friend Dr. Srilal Fernando in Australia, Neville recalls this great man; 
Yes, I knew Lionel de Fonseka. I don't know too much about him except that he wrote the 'Dialogue', which was highly regarded by many intellectuals of the time. According to his nephew Errol de Fonseka, Lionel wrote this book primarily to satisfy his father, that he was using his time at Oxford to good purpose. Lionel was more proud of a piece which was published by the "Punch" magazine, but I have not seen it. Lionel also wrote a weekly column for the Ceylon Catholic Messenger which, I recall, was very well received.
Lionel was an articulate defender of the Church and had many original ideas on subjects that were at one time dismissed as unworthy of good Catholics. For instance, he believed in Astronomy as a science and quoted the use of astronomical signs and myth quite seriously to show that there was more to it than superstition, the Bible being one of his principal sources. 
He also condemned Acting, as a denial of self, of the God-given personality which it was our business to protect and nurture. By taking on other personalities, an actor was eroding his own. Apart from that, I used to meet him at his home down De Fonseka Place, where he entertained me in his vast upstairs library.