An article honoring Bertha de Fonseka at the centennial celebration of Ladies College, reveals some interesting insights in to the racing career of Bertha and Edmund Clarence de Fonseka.
"My explanation, which was accepted, was that Shali was a mare and, like most females, unpredictable."
                                                                                                                                                                           

Edmond Clarence de Fonseka
One of the glittering moments in Bertha de Fonseka's colourful life was in 1936 when, as part owner of the winning horse Whiskey Peg, she received the Karandawatte Cup from her mother-in-law. That adhesive family element must have been a record of some sort in the racing world because the Cup was presented by the father of her illustrious husband, the late Major E.C. de Fonseka who shared ownership of Whiskey Peg with Bertha.
Last month, about 64 years later, this still spry, spunky lady was again in the news; this time as Ladies College's oldest Old Girl.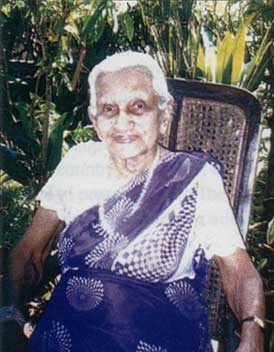 She may have looked as timorous as a squirrel when Ladies College celebrated its centenary last month. But anyone close to her will tell you that Bertha; who raced under the pseudonym "Mr. Bert", was a feisty socialite who, together with her husband, owned 41 racehorses.
Another delightful moment in her life was when Shali, an Arab mare, again jointly owned by she and her husband, won the coveted Robert's Cup in 1934. Shali had won a race in July that year, then finished fourth in her next outing before blazing to victory in the Cup race. Of these unusual performances, which, predictably, aroused the curiosity of the stewards, Bertha's husband, who had been aide-de-camp to several Governor-Generals, later recalled in his newspaper column: "The Stewards considered this 'in and out' running and hauled me up before them. This was the first and only time I ever went before the Stewards. "My explanation, which was accepted, was that Shali was a mare and, like most females, unpredictable."
He also noted that when their horses clashed, her horses finished second on all three occasions; Badruzam beating Rezashah in one race and Nadim Beg in another, and Poor Crossing getting the better of Castlebar.
This comment by Bertha's late husband was indicative of the rivalry between them: "As I had trained my wife's horses as well as mine, I often saw visions of 'change of trainer', but I succeeded in dissuading her from doing so."
The major, who was averse to betting, also recollected the occasion when his horse Butty paid Rs. 157 for a win and Rs. 43 for a place. "I was just getting into my car to go to the races when my clerk came running up to me and asked me to place a Rs. 10 bet each way on Butty.
"I told him that the horse had no chance, but he insisted that I should place the bet for him which he promised to pay me later. I completely forgot about the bet, and only after the horse had won did I remember the request. I did not have the heart to tell my clerk that I had forgotten to place the bet, but cheerfully handed over Rs200, minus the investment, to him the next day."
As Bertha recalls the romance of racing during the colonial days, characters move dreamily across our view as if on an impressionable canvas. The 1941 Governor's Cup glitters in her mind. Colourful, owned by Mrs G.N.G.Walles triumphed in that race. And the Galle Face Hotel, venue of the Cup Day Dinner and Dance, accomplished a feat that would be considered extraordinary even with today's technology when the photo of the Cup finish appeared on the menu card only a few hours after the event.
As it happened, Bertha's claim to VIP status at the Ladies College centennial celebrations is her ability to defy Father Times. But those dear to her would acknowledge that had she been eclipsed by someone older, she would have still wooed the spotlight with her elegance, charm, sparkling wit and resolute spirit.
The eldest of three children of Dr and Mrs. K. J. De Silva of Moratuwa, she has outlived her sister Glencora and brother Eric. Senior members of the community would remember Dr. K. J. De Silva, a well-respected and popular doctor who was awarded the OBE during the colonial era.
Some trophies from the treasure trove that husband and wife had won at the race meetings have been distributed among the three children, Cynthia, Rowena and Tina. As for the Robert's Cup – the holy grail of racing in the country during that era, her husband presented it to The Sir John Kotalawala Defence Academy in Kotalawalapura.
Truly, Ladies College could not have honoured a more elegant lady!

---
This article, including the photographs, have been reproduced from a Sri Lankan Magazine published around 1999. Not knowing the publication or the author, I am unable to acknowledge both.