"Salgado Bakery had a running account for him where the bills were paid initially through furniture and fittings and eventually the proprietor of the bakery took possession of the house. "
---

Patrick Gooneratna was born the only child into the wealthy family of Peter Gooneratna and Beatrice de Fonseka (Panwila Aunty) and owned many properties in the Kalutara area. Peter Gooneratna was from a wealthy family in Panwila, Kalutara. Their palatial house is said to have had over 40 rooms with a dance hall, and employed Madurai cooks to prepare sumptuous meals. This has now been handed over to the Archbishop, and is used to house a Seminary. It is said that Peter Gooneratna's family, brought in the first car to the Kalutara area.
Pat owned the ancestral Home 'Beatrixdale' and over eleven acres of land at Jawatte in Kalutara. This land he inherited was originally part of the 'Gambiriswatte' estate that belonged to James Fretz de Fonseka. He distributed this property amongst his children  Henry Martin, Lilly Louisa and Beatrice Joslin, Pat's mother. Henry Martin gifted his portion to his daughter Elaine Perera, who sold this property in 1975. Lilly Loisa died inter-estate.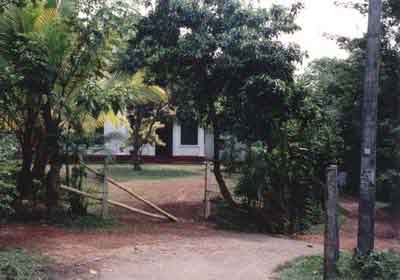 Pat who inherited the land on his mothers death (Beatrice Joslin), sold the land part by part for his existence. A kind hearted man he gave away some land to people close to him. He deposited some money in the bank and drew on the interest for his needs, and even had some money in the bank and at the time of his death. He lived his last few years in a small wooden hut, which was built for him by the people who took possession of the house to recover debt, and were allowed to live inside the house by Pat. They in exchange looked after pat and gave his daily needs.
People of the area has now either bought or taken over most of the property, blocked it out and has built houses, and the place now looks like a typical suburban housing estate with a roadway, electricity and telephones lines. The old driveway is now used as the main roadway to the housing estate.
Pat who was eccentric, struggled to make end meet in his last days. Pat  who had a voracious appetite spent most of his money on food, and rarely cared about his clothes or hygiene.
Interesting stories about 'Pat' are many .These anecdotes were related by people who came across Pat's eccentricity at one time or the other.
'When I was a young Doctor in my first year of work at the General Hospital in Kalutara, I got a call from Aunty Elaine and Justin Arsekularatne, that Panwila Aunty was ill. I went to her house to see her and realised she was seriously ill and close to death. I arranged for the hospital ambulance to get her and she died in hospital some days later. The ambulance driver recounted a story later. Pat who was not 'quite right' also got into the ambulance. He then asked the driver to head towards Salgado Bakery, went in and had a good 'feed', and then took his mother to hospital.'
Dr Srilal Fernando, 19th November 2000
When Panwila Aunty was ill, I went to the Kalutara Hospital to see her. She then wept and told me the 'time has come for me' and asked me to comb her hair and put on the veil. Having realised the situation, I went to Jawatte (Kalutara) to get Pat, to be with her in her last minutes. Pat flatly refused and blurted – "I cant come with you. If I come with you I wont be able to have my lunch". Distraught, I came back to the hospital, comforted Panwila Aunty and went home. The same night I got a phone call informing that Panwila Aunty had died. I could not attend the funeral, but later on I heard that when the cortège was leaving, Pat got everyone out of the house, locked the doors, put the keys in his pocket, and then joined the mourners winding their way to the cemetery.
Mrs. Joan Perera, 8th December 2000
"Uncle Pat was a regular visitor to our home in Ratmalana. He usually dropped by on his way to or from the British Council Library, where he spent his time in air conditioned comfort, either browsing or snoozing. Though not generally tolerated by his relations, the villagers of Jawatte treated him with respect and provided him with his basic needs until the very end. He was also the regular Santa Claus at Cargills toys section during the 1980s, something he looked forward to each year. On a visit to his humble tin shed, built for him by the villagers, it was sad to see the only possession he had, apart from the bed, which took most of the space, was a photograph of his mother. Despite his eccentricities, he came across to me as a gentle and a kind person. Perpetually hungry, he always appreciated the offer of food. He was probably the last of the de Fonseka clan to leave Kalutara."
The following anecdotes were related to me by William Singho and Narayana, whose families were given free land by Panwila aunty for the loyal services they rendered.
Salgado Bakery had a running account for him where the bills were paid initially through furniture and fittings and eventually the proprietor of the bakery took possession of the house.

His Austin A 30 was sold to two people at the same time. ( This has been originally  purchased from the Bishop of Kandy )

Using his previous employment with the CTB as a privilege, he has been known to travel by bus without tickets.

Panwila aunty, even till the last days had to count the coconuts plucked from each tree.

He made persistent requests till the end to change an old Rs100 note left over from the days when N.M. Perera made obsolete all large denomination notes in a bid to bring the 'Black Money' into circulation.

 A girl was once proposed to him and when the party came on a visit, he had bolted through the back door!
Siraj Perera, 3rd January 2001