Mackinnon Mackenzie and Company of Ceylon Limited dates back to the early years of the century and has a proud history of association with the British India Steamship Company (BI) and the Peninsular and Oriental Steamship Company (P&O).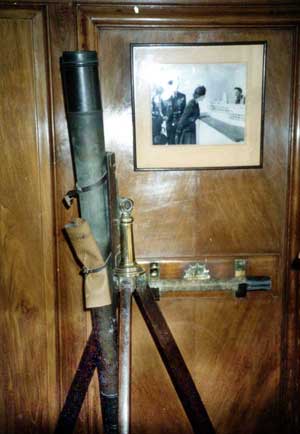 The Telescope used by the  manger a century ago to observe the company vessels steaming in and out of the port. It could be still found in the Executive Director's office at York Arcade. Mounted behind is the Royal Charter granted to the company.
In April 1871, Robert Spence Philpott and Teritt Hugh Tatchem formed a partnership in Ceylon under the name of Mackinnon Mackenzie & Company, to take on the shipping agency business of P&O and the British Steam Navigation Company.
Incorporated by Royal Charter in 1840 the Peninsular and Oriental Steam Navigation Company, (P&O) started an active agency in Ceylon in 1842, when the SS HINDUSTAN on her maiden voyage called at Galle, the island's principal harbour at that time. It then began its regular runs between Calcutta and Suez thru Point de Galle. The first agent was Thomas Twynam who retired in the 1850s. The Shipping Agents for P & O lines at this time was E. Coates & Co. (Galle) Ltd., situated inside the Galle fort. The newly formed Mackinnon Mackenzie & Co. took over the P&O agency in 1871.
In 1917 the Company set up office in Victoria Arcade, York Street, a landmark in Colombo Fort owned by the Earl of Inchcape. By November 1921 the rapidly growing Company acquired the property for 1,350,000 Rupees. During 1925 the building was extended and renovated to accommodate the ever-expanding activities of the company. (Part of this building was subsequently damaged in the fire that demolished the adjoining Grindlays Bank building.) The building still houses the Mackinnons group of Companies. 
P&O operated services to London through the Suez Canal and via the Cape. Mackinnon Mackenzie & Company had offices in Bombay, Hongkong, Rangoon, Shanghai, Kobe and Yokohoma. The British India Steam Navigation Company operated a fortnightly service to London as well as India, Australia, Mauritius and the Persian Gulf.
In 1952 the Company converted to a limited liability status and in 1974 the John Keells Group acquired the ownership of the Mackinnons Group of Companies. Today the P&O Container business is handled by P&O Nedlloyed Keells (Pvt) Ltd, from the very same building it moved into in 1917. Mackinon Mackenzie (Shipping) Ltd handles agency and related services for other lines.
The Mackinnons association with P&O took a giant step when in 1999; it initiated together with P&O, one of the country's biggest infrastructure projects to expand the Queen Elizabeth Quay. This company known as South Asia Gateway Terminal (SAGT) will develop and operate three new state of the art deep-water container berths at the Colombo Port with the goal of making Colombo a major shipping hub. This also made the P&O Company the major player in port and shipping activities of the country, a position the company enjoyed over a hundred years ago.
Early Beginnings and the formation of British India (BI)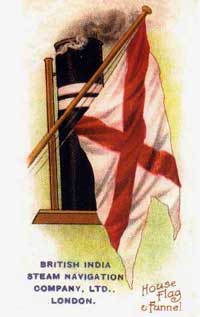 William Mackinnon was born on 13 March 1823 in Campbeltown, Argyleshire. Early in his life he went to Glasgow, where he was employed in a silk warehouse and afterwards in the office of a Portuguese East India merchant in Glasgow. MacKinnon began his business life when he was drawn to greater prospects in India. He arrived there in 1847 and joined an old school fellow Robert MacKenzie.
Robert Mackenzie arrived in Calcutta in 1836 and set up an oil goods import/export business and was engaged in the coasting trade in the Bay of Bengal. He was also the agent for the India General Steam Navigation Co. He was well established in the trade when Mackinnon arrived in 1847.
Their meeting in Calcutta was to change the shipping business in the eastern seas forever.  In 1882 Mackinnon was nominated C. I .E and was created a Baronet on 15 July 1889. William Mackinnon died on 22 June 1893, in London. Robert Mackenzie was lost in a shipwreck in 1853, on passage from Australia to Calcutta.
Their business relationship began almost immediately on Mackinnons arrival in Calcutta and the partnership of Mackinnon, Mackenzie & Co. was founded in December 1847. So too was its involvement in shipping, mainly chartered sailing vessels running between India and Australia
On 29 September 1856, the Calcutta and Burmah Steamship Navigation Company was founded, mainly through Mackinnon's exertions. The steamship, by virtue of its regularity even more than speed, revolutionized worldwide mail communications. There was no prouder vessel than bearing the imposing prefix "R.M.S.", Royal Mail Steamship, conveying the Mails and Dispatches, under contract with Her Majesty's Government. For an aspiring steamship line, securing a coveted Royal Mail contract guaranteed minimum revenue beyond the carriage of cargo and passengers. Competition for such contracts was keen, often cutthroat, but once won, could make or break a company. Choosing the peacock of Burma for the company crest and house-flag, Mackinnon acquired a small fleet of second-hand steamers for his new Royal Mail service.
In 28th October 1862 the rapidly expanding company was reorganized and renamed the British India Steamship Navigation Company (BI). One other development of the line was an important new agreement with P&O's archrival, the French mail company, Messageries Imperiales (later to become Messageries Maritimes) enabling some interchange of passengers and cargo at both Galle in Ceylon and Pondicherry in India
The P&O Coat of Arms, granted in 1937 but based on a badge used for several decades previously, combines the Royal colours of Spain and Portugal (thereby its "Peninsular" origins), with an "Oriental" rising sun as a crest, and with a lion, elephant, dragon and kangaroo – which signify Britain, India, China and Australia, the countries linked by its Imperial mail services until the Second World War.

The Company was incorporated by a Royal Charter in 1840, and is one of the handful of companies that includes neither "PLC" nor "Limited" in its name.
Since 1856, the year British India Steamship Company was formed; Mackinon Mackenzie & Company became its managing agent in Calcutta and other parts of Asia. Throughout the ensuing years Mackinnon Mackenzie and Company  would remain managers for British India Company. Its commission business with BI was very extensive and remunerative and was necessary for BI's effective running. With the merger of P&O, the two companies operating side by side gave the company a wider base of security for future profits.
The merger with P&O
In 1914 these two giant shipping companies in the eastern seas, submitted a proposal to merge their activities. Between them they accounted for 201 ships and 1,146,767 GRT (Gross Registered Tons). On 19th May 1914, the P&O board issued a Resolution to make an offer to BI to buy its ordinary and preferred stock. The two Boards were to be "fused" still working separately but under a single controlling body. The final agreement came on 27th May 1914, whereby BI duly transferred all its issued stock to P&O. All twelve P&O directors were now also directors of BI, and all eight directors of BI were to have a seat on the P&O board. At this stage Sir Thomas Sutherland was the chairman of P&O and the Earle of Inchcape was to continue as Chairman of BI for a term of ten years, but Sutherland had other plans. Sutherland who was 78 years old then retired as chairman in favour of Inchcape, who was 16 years younger. British India closed its books on 30th September 1914, and officially ceased to exist. ​
| | |
| --- | --- |
|   | |
An advertisement placed by Mackinon Mackenzie & Co. in Colombo in the mid 1930's promoting its newest ships the 'Strathaird', Strathnaver' and the slightly older 'Viceroy of India'. The 'Strath' liners were all white and surpassed even the Viceroy of India in design, popularity and service. They introduced white colours as a permanent feature of the P&O ships and these two liners were nicknamed the 'White Sisters'. Speed and power was further suggested by having three funnels, although only the middle one was real. The Viceroy of India, though painted black and built a few years earlier (1929), introduced a new level of luxury and speed to the service. It was the first P&O ship to have an indoor swimming pool. All three ships were turbo-electric, steam turbines powering giant electric motors.
Photographs: