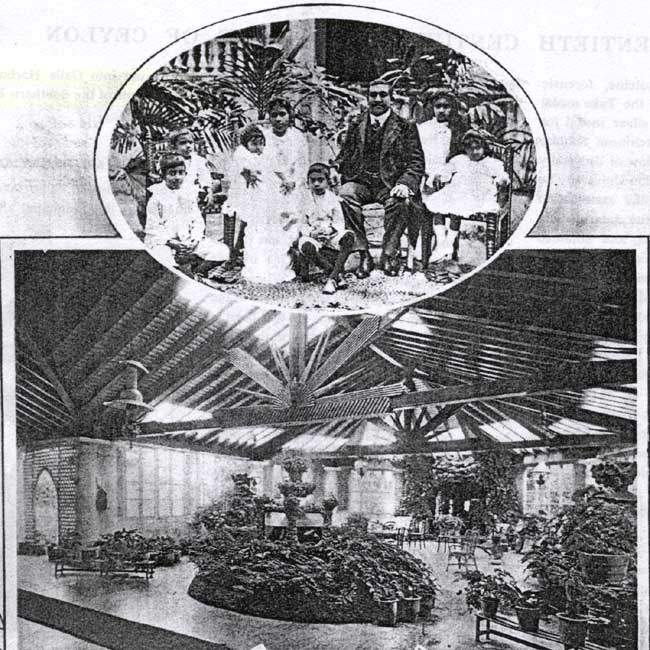 Emmanuel Perera-Abeywardena or Manuel is the first recorded ancestor of this great family. He was a Proctor attached to the Dutch Court and a protégé of the Dutch Commander Johannes von Haytonburgh. He married a Ms Jayawardena of Welitara who bore him his only son Christopher born in 1786. His second marriage was to an Ms Goonewardene. Emmanuel went on to become a wealthy businessman, but it was his son Christopher that made the family name a part of southern Sri Lanka. 
Christopher, his only son married Dona Gimara Silva whose family owned a fleet of fishing and other vessels that when moored on the Magalle beach, spread from the Frenchman's Island to the Market Place. They were married in 1847 at Christ Church, Galle Face, in Colombo. She bore him ten children, seven sons and three daughters, and lived onto the ripe old age of 103 years. Dona Gimara had four brothers named Denis, Bastian, Mathes and Davith, whom she adored very much. Two of her sons were named after them. (Bastian or Don Bastian de Silva may have been the other well known ship owner from Galle, about whom a separate article appears at the bottom of the page.)
Christopher Perera Abeywardena obtained a contract with P&O Steamship Company as a ship chandler at a time when shipping activities were expanding rapidly in the region. He bought a fleet of barges, employed a number of hands, and established a business that lasted many years. Christopher worked hard on his contract with the P&O Company and made a fortune over a period. His sons too were drawn into the business. Simon became General Manager, Lanty or Henry was Manager Afloat, Arnolis was Manager Ashore and Sinnochy was in charge of Accounts. Lanty was a fearless man who controlled the fleet of boats and men, which loaded and unloaded the goods. They had their office in the Fort. Not much is known of the other children.
Arnolis married a daughter of Mohandiram Abeysekera of Gandara (de Saa Abeysekera family of Gandara Walauwwa). Sinnotchy married Matilda, a daughter of Christian Samaraweera Jayasuriya, Mudaliyar of Maijam Pattu. Simon and Lanty married the daughters of Andiris A. Wijesekere, Interpreter Mudaliyar of the Supreme Court and of Nona Ratna. Mudaliyar Wijesekera was one of the largest capitalists and planters of the Southern Province of Ceylon. Simon's choice was Charlotte. She preferred him to all her other suitors. Charlotte's mother had died soon after giving birth to her. Her father married again, this time a lady from the de Fonseka families of Kalutara. Her name was Johanna Victoria de Fonseka, the daughter of Manuel de Fonseka, Mudaliyar of Kalutara. Charlotte had several stepsisters and a brother whom she was very fond of. It was one of these stepsisters, a daughter of Johanna Victoria de Fonseka and Andiris Wijesekera that Lanty married in due course.
Simon settled with Charlotte in his mother Dona Gimara's house. Later on he bought 'Wasala Walauwwa' in Padautota from Gate Mudaliyar Goonewardene. 'Wasala Wallauwwa' was built by Gate Mudaliyar Don Bastian de Silva Jayasuriya Goonewardena, about whom an article is found elsewhere in this website. Behind this house lay the Gangaramaya Temple, built by Don Bastian in 1841. On Don Bastian's death in 1876, Simon was appointed the 'Maha Dayaka' to this temple. He built the Image House of the temple with a large donation from his mother, Dona Gimara. His brother Lanty (Henry) completed the work on the Image House. On Henry's death in 1903, Simon Abeywardena's son Dannister and later on his eldest son Francis too became Maha Dayakas of the temple.
Simon also branched out on his own Salvage business. Many a ship was wrecked on the rocks in Galle Harbour. The Steamship Company sold these wrecks by tender and Simon was often the highest bidder. He purchased the island in Closenberg Bay called 'the Frenchman's Creek' and used it to dump goods salvaged from the wrecks.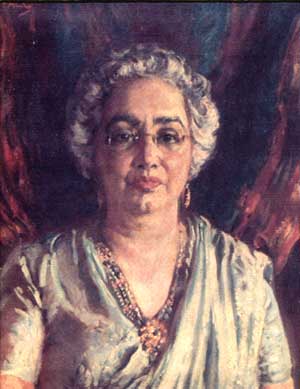 Marjorie De Mel, the author of the family memoirs.
Charlotte bore him four children, Francis the eldest (named after Capt. Francis Bailey), Dannister or Danny, Titus and the last a girl named Regina. Charlotte died soon after giving birth to Regina, of complications arising out of the confinement. She was aged 33 years. Charlotte's death cast a gloom over the place, and two years later Simon moved to an estate at Walahanduwa, 5 miles away where he had built a large bungalow. Simon also contested the Galle Municipality and won the Galupiadde Ward. When 'Villa Marina' fell vacant, It was Simon Perera-Abeywardena, M. M. C. who in 1889 bought and renamed it 'Closenberg'. Simon had but two years of great happiness living in this property and extending his lavish hospitality to his all his friends and relations. He died on the 25th of January 1891 at the age of 59. He left Closenberg and his estate Walahanduwa to his eldest son Francis, and his first home 'Wasala Wallauwa' to his daughter Regina. In winding up his estate, the salvage and the coaling businesses were sold. Thus ending the family's ties with the sea and the port.
Francis Perera Abeywardena, the eldest son of Simon Perera was born at Galle in 1875, and educated, firstly, at the Richmond College, and afterwards at the Royal College, Colombo. In 1906 he married Rita, the fifth daughter of the late Charles Henry and Lady de Soysa. The book 20th Century Impressions printed around the turn of the century lists him as a planter and Plumbago merchant, with several plantations under his ownership.
Simon's second son has been named Dannister or Danny. An interesting story about him appears in Joe Simpson's article 'Preserving the spirit of a forgotten world – anecdotal glimpses of the New Oriental Hotel, Galle Fort'. 
Some years later, in the 1890s, another incident involving an English sailor occurred in the Oriental Hotel's bar. Danny or "Dandy" Perera, the son of the prosperous Simon Perera. Dandy had gone to the hotel's bar with a group of friends for a quiet drink. Dandy was well nicknamed, as he had a taste for fine clothes and fast horses, drove a smart dogcart and had a small light bulb attached to his horse's head that blinked as he flashed by. At any rate, an English sailor drew a knife in the bar after objecting to the presence of Dandy and his friends. Undaunted, Dandy caught the obnoxious tar by the collar and threw him headlong down the hotel steps into the street below. The delighted barkeeper promptly annexed the knife and for many years afterwards it was displayed prominently above the bar. Dandy of course became a local hero!
Many other stories are also told about Danny and his fearless ways. Later in life he was to change, and became a 'Maha Dayaka' of the Gangaramaya Temple, and worked towards many a worthy cause. Danny also owned a theatrical company, which he had even sent to Singapore.
Regina the youngest married Arthur de Soyza, a brother of Rita, Francis's wife. Danny married a girl from Moratuwa, and lived in Galle town. Tiddy or Titus went to Aberdeen for studies and remained unmarried. Francis Perera died in 1912 at the age of 38 years.
Francis (Frank) and Rita were blessed with eight children, arraigned in pairs of a boy and a girl. Patrick was the third and the first Perera Abeywardena born at Closenberg. His elder brother Frank and his sister Marjorie were born at 'Alfred House' so named after the Duke of Edinburgh, H. R. H. Prince Alfred. The Duke visited this palatial house during his visit. Franck became the first Ceylonese Visiting Agent and the first Ceylonese Chairman of the Low Country Planters Association. Frank had only two daughters, and fittingly when the time came, the property was left to his brother Patrick. Patrick was the only member of the family to insist on using their double name Perera – Abeywardena. He was one of the first Ceylonese Brokers and founded the firm Pieris and Abeywardena. He married a Eurasian girl named Margaret Cameron. Zena died at the young age of 21. Esme married Wilmot Perera the first Ambassador to China. Gussie went to Trinity Hall, Cambridge, joined the inner Temple and was called to the Bar. Returning to Ceylon he joined the Galle Bar. Later on he married a Eurasian girl named Pamela.
When Patrick died and his wife a few years later, their children decided to go abroad to Australia. Kumar their eldest son became the owner of Closenberg and converted it as a Tourist Hotel. Today it is a popular hotel in the south and Kumar Perera Abeywardena is the Managing Director.
The Family Tree of the Perera Abeywardena family.
Emmanuel Perera Abeywardena (Manuel) married Ms. Jayawardena of Welitara, mother of his only son Christopher.
                                                                                           married Ms Goonewardena of Delwatte.
Christopher Perera Abeywardena (b 1786)  md Dona Gimara Silva (1808 – 1911 Died aged 103 Years)

Thosiana Perera Abeywardena.

Mathenis Perera Abeywardena.

Davith Perera Abeywardena.

Caroline Perera Abeywardena.

Elizabeth Perera Abeywardena.

Simon Perera Abeywardena (1832 – 25.01.1891died aged 59) md in 1874 Charlotte Wijesekera (1856 – 1883), daughter of Andiris A. Wijesekera, Interpreter Mudaliyar, and Nona Ratna.

Francis Perera Abeywardena (1875 – 28.05.1914 died aged 38 Years) md Rita de Soysa, 5th daughter of Charles Henry de Soysa and lady Catherine de Soysa.

Simon Francis Hereward (Frank) Perera Abeywardena (1897 – 1947 died aged 49) md Susima, daughter of Thomas Amerasuriya of Unawatuna, Galle.

Nalini Perera md Errol Jayawickrema and later George Stork.

Santhoshini Perera md Bunty de Soysa, Crown Counsel.

Marjorie Perera Abeywardena (1898 – 1968) md F. Benjamin de Mel, son of Jacob de Mel.

Lakshman de Mel.

Rohini de Mel.

Seela de Mel md Ray Wijewardene.

Patrick Perera Abeywardena Md Margaret Cameron.

Kumar Perera Abeywardena.

Kamal Perera Abeywardena.

Hemali Seneviratne (nee Perera Abeywardena.)

Siridev Perera Abeywardena.

Zena Perera Abeywardena. Died aged 21.

C. G. A Perera (Gussy) md Pamela Watmore.

Oranea Mendis (nee Perera Abeywardena) md Mohan Mendis.

Esme Perera Abeywardena Wilmot Perera.

Enoka Pieris (nee Perera).

Ajit Perera.

Leslie Perera Abeywardena.

Iris Perera Abeywardena md Dunstan de Silva.

Shireen Jayasuriya (nee de Silva).

Ranjith de Silva.

Mali Pieris (nee de Silva).

Mino de Silva.

Ananda de Silva.

Neela de Silva.

Tilak de Silva.

Dannister (Danny) Perera Abeywardena (d July 1912) md Jane Fernando, daughter of Mudaliyar Sri Chandrasekera Fernando and sister of Mrs. C. P. De Fonseka.

Dannister Perera Abeywardena.

Llewelyn Perera Abeywardena.

Geoffrey Perera Abeywardena.

Titus Perera Abeywardena (1879 – 1908 Aged 30 Years).

Regina Perera Abeywardena Md Arthur de Soysa.

Violet de Soysa Md Pieris.

Bina Pieris.

Rupa de Soyza.

Others..

Lillian de Soysa Md Herbert Alexander Jayatilleke Hulugalle.

Damayanthi Hulugalle Md S. K. Wickremasinghe

Pansy de Soysa Wijesekere

Aera Wijesekere.

Chansi Wijesekere.

Paddy Wijesekere.

Summa Wijesekere.

Chathra Wijesekere.

Others . .

Arnolis Perera Abeywardena md a daughter of Mohandiram Abeyasekera of Gandara.

Henry (Lanty) Perera Abeywardena md  Lucy daughter of Andiris A. Wijesekera, Interpreter Mudaliyar and Johanna Victoria de Fonseka. Victoria was the daughter of Manuel de Fonseka, Mudaliyar of Kalutara.

C. H. Perera Abeywardena.

Roland Stanley Perera Abeywardena (d 16.04.1940).

Sinnotchy Perera Abeywardena (d 1890)  md Matilda, daughter of Christian Samaraweera Jayasuriya, Mudaliyar.

Agnes Perera Abeywardena md David (cousin of Rita de Soyza).

Eddie Perera Abeywardena.

Thomas Perera Abeywardena.

Missiana Perera Abeywardena md a Mr. Abeydeera

Daughter – Name possibly Susan Perera Abeywardena.
---
Bibliography
"A Family Memoir" by Marjorie de Mel (in Private Circulation).

20th Century Impressions, Arnold Wright 1903.

'Saddharma Yuktika Bhikshu Vamsaya', a historical account of the Saddharma Yuktika Sect; in Ceylon and the Gangaramaya Temple, Galle by Ven. Piyatissa of Magalle

'Preserving the spirit of a forgotten world – anecdotal glimpses of the New Oriental Hotel, Galle Fort' – Joe Simpson, Canada ('Ceylankan' – The Journal of the Ceylon Society of Australia, May 2002.)