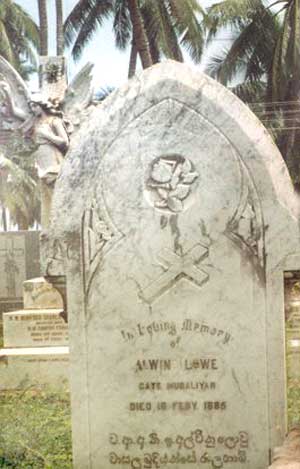 Alvinu Lowe :
This photograph taken in 1997 shows the headstone of Alvinu Lowe's grave. Alvinu lowe was the Mudaliyar of Kammala Pattu (Ceylon Almanac 1839), Mudaliyar of Pitigal Korale (Ceylon Almanac 1871) and Mudaliyar of the Governor's Gate (Gate Mudaliyar) as shown in the headstone .He married Michella De Fonseka, daughter of Manuel de Fonseka (Mudaliyar) of Kalutara. He died on the 18th of February, 1885
The grave is located at the Marawila Roman Catholic cemetery, by the beach, near the chapel of the crucifix.
The Singhalese inscription found at the bottom gives his full name Varnakula Addittiya Arasanilayitta Alvinu Lowe. 
Photograph courtesy of Germain Fernando.