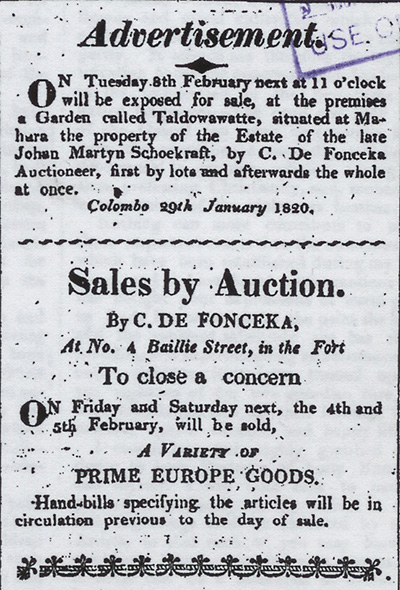 In a study of the 'De Fonseka' surname in Sri Lanka (Ceylon), three distinct family groups or segments could be found. One is the Arasanilayitta clan of Kalutara which is well documented in this site. The other group is the predominantly Buddhist group of families originating from Panadura, which is also featured in a separate section. The third group, is closely intertwined with the Dutch Burgher community and  seems to be  Anglican. Most of the names listed below belongs to this group and has been sourced from Anglican Church Records. 
These names provide valuable insights into the different 'De Fonseka' branches that are in existence.  This is the least researched segment and the people mentioned in this page will be organized into relevant Family Trees or Sections as the research progress.
Your help in identifying these persons ( or details of any De Fonsekas not listed here ) are most welcome. Please respond with whatever details you may have, however small or insignificant it may seem at the moment. It is hoped that one day this site will contain a comprehensive database of all De Fonseka families of Sri Lanka.
The Anglican De Fonseka Families :
Borella Baptisms :
Fredrick Winston Anthony Dias son of Fredrick Walter Dias and Novah Cecilia Maud de Fonseka 14/12/1924.
Anglican Church Colpetty (Baptisms):
Floris de Fonseka and Eliza de Abrew Rajapakse of Maradana
            Son – Joseph Robert                      29/11/1867            17/11/1878
            Son – Philliph Albert                      20/11/1865           17/11/1878
Sadoris De Fonseka Abeysekera Gunaratna and Batcho de Soosa Wickremasinghe of Pohaddaramulla Caltura
            Son Abraham Flores                      12/5/1847
Dutch Reformed Church, Wolvendaal – Baptisms:
Manuel De Fonseka and Cornelis Bosi
             Theadosin                                       17/11/1737
             Manuel                                            30/10/1740
             Nicolaas                                          19/05/1743
             Anne Maria                                    10/07/1746
Nicholaas De Fonseka and Regina Gomes
            Joan                                                  11 days
            Clara                                                 21 days
            Solomon                                           1 month 6 days
Hendrik Diderik Dias De Fonseka and (entry damaged) x (more details under others )
            Johannes (adopted)                      21/07/1781 3D/3 132
            Rudolf (adopted)                           12/01/1782 135
Simon De Fonseka and Maria Wilhelmmiina Wesselius
            Sara Wilmma                                  25/05/1796 3D/3 283
            Anna Maria                                     02/02/1799 3D/3 310
            Johan Simon                                   02/08/1801 3D/3 330
            Johan Nicolaas                               15/07/1804 3B/2 48
            Theodore Louis                               10/09/1809 3B/2 142
            Henrikus Phillippus                       10/04/1814 3B/2 185
Louis De Fonseka and Anna Maria Pieris
            Sara                                                    02/08/1801 3D/3 330
Christiaan De Fonseka (Colombo) and Dona Giemara of Matara on 07/08/1808
            Anna Maria                                      10/06/1801 3B/2 155
            Johannes Louis                                 03/09/1820 3B/2 240
Johan De Fonseka and Nattalia Gomes
            Cornelis                                            29/01/1758 3D/2 297
            Michiel                                              08/03/1767 3D/2 409
            Anna Catherina                               20/11/1774 3D/3 76
Jan Marcus De Fonseka (Colombo) and Anna de Croos on 11/02/1753
            Anna                                                 30/12/1761 3D/2 338
Lodewyk De Fonseka and Johanna Francina de Seram
            Balthazar                                         26/07/1767 3D/2 419
            Petronella                                        25/06/1769 3D/3 23
            Juliana Francina                            27/10/1771 3D/3 49
            Sara                                                   11/02/1777 3D/3 48
            Cornelis Adriana                            11/06/1780 3D/3 119
Joan De Fonseka and Patronella Gomes
            Pieternella                                       20/08/1780 3D/3 122
            Regina                                              04/10/1778 3B/1 113
            Clara Magdalena                            22/06/1783 3B/1 130
            Cornelis, Sicilia, Silvia, Christiaan, Christina and Joseph
            ( All adopted )                                 23/07/1780 3D/3 121
Bernado De Fonseka and Maria Gomes
            Anna                                                 30/06/1767 3D/2 416
Louis De Fonseka and Louisa Wolvrant
            Anna Maria (adopted)                   07/07/1771 3D/3 45
Johan Simon De Fonseka and Anna Elizabeth Fernando
            Louisa Wilhelmina                          28/06/1829 3B/2 335
            Johanna Marciana                           11/03/1832 3B/2 366
            Johanna Arnoldiva                          07/02/1836 3B/2 416
John Simon De Fonseka and Johana Margeritta Phillipsz
            Edward William                               08/04/1844 3B/2 523
            Mary Ellen                                         19/09/1847 3B/2 583
            Amelia                                                21/10/1849 3B/2 611
            Marciana Matilda                             03/06/1855 3B/3 49
Deaths – St Paul's Burial Grounds:
Don Cornelius De Fonseka 64 Yrs on      23/11/1830
Cornelia, daughter of Cornelis De Fonseka 5 mnths 05/04/1832

Marriages – Trinity Church Colombo
Warnage William Henry De Fonseka to Madapuliarachchige Matilda Elizabeth on 16/11/1911
Extracts from the Baptismal Register of Christ Church, Galle Face, Colombo
Sadoris de Fonseka Abaysekera Guneratna and Katcho de Soosa Wickremasingha of Pohaddaramulla, Caltura
        Abraham Floris de Fonseka (Son) Born 12th May 1847, Baptised March 17th 1878
Floris de Fonseka and Eliza de Abrew Rajapakse of Marandahn, Colombo
        Phillip Albert de Fonseka       Born 20th November 1865,  Baptised March 17th 1878
        Joseph Robert de Fonseka  Born 29th November 1867,  Baptised March 17th 1878        
Extracts from the Registers of St. Paul's Church, Kynsey Road, Colombo
Marriage   – John Simon de Fonseka and Johanna Margaritta Philips on the 20th of February, 1838.
                        No 21, Folio  No 5.
Baptismal – Jane Chrlotta de Fonseka (daughter)        Born 15th February 1839,    Baptised 7th April 1839.
                        No 69, Folio No 5.
                       Sophia Elizabeth de Fonseka (daughter) Born 2nd November 1840, Baptised 25th December 1840.
                        No 125, Folio No 5. 
Unconfirmed Source : 
                         Phillipus Arend of Zevenbregen bombardier widr. Of Cornelis Van den linden and Klara de Fonseka of Cbo. Married 25/1/1767.
---
Others :
De Fonseka names, family trees and details picked up from various sources.
(1) Hendrik Diederick Dias de Fonseca, source Sri Lanka Gen Web – Notables in Ceylon in the year 1760, posted by Ms. Jennifer van der Greft, Kfar Saba, Israel.
Following here is an example of a translation describing the funeral procession of Robertus Kramer – Dissave of Colombo, by Mr. De Vos, one of the most knowledgeable people of the VOC period. Mr. F.H. de Vos gives lots of personal information concerning the persons attending the funeral which cannot be found anywhere else.

(1) At the funeral of Robertus Cramer the following persons were present:-
47.  Hendrik Diederick Dias de Fonseca, OnderKoopman. He died in Colombo in 1785 and was married twice: 1st time with Hester Catharina Kriekenbeek in 1767 and the 2nd time with Anna Elizabeth Leembruggen in 1776.
(Onderkoopman = Merchant – Second Class; 
        Senior rank in the Dutch Administration; Grades were Clerk, Assistant, Book-Keeper, Under-Merchant, Merchant, Upper-Merchant and Commandeur (only in Jaffna and Galle)
He is also mentioned in Archives Volumes 2622 and 2623 (see D'andrado Papers).
2622 1781 January 3 – December 31, Nos. 1 – 188. By Hendrik Diederi, Dias da Fonseka. 
2623 1781 – 1796 January 25.( n.b. Although composed by different clerks the numbering in this file is consistent), Nos. 1 – 54. The specification is as follows:
Nos. 01-11: 1781 – 1783 September 5 by Dias da Fonceka ; (see No. 2622).
(2) Lyn De Fonseka – Librarian 1958 Colombo Museum and Asst. Secretary Royal Asiatic Society. ( Source Obituary RAS Journal XIV 1970, 134-135 )
(3) Sourced from Birth/Death/Marriage Certificates
 M. L. Lewis de Fonseka married A. Martha Fonseka.

Cecilia Gertrude de Fonseka (Nainamadama).


Hector Herbert de Fonseka married K. B. Lucilda.

Eileen Jannet (Johanna) de Fonseka.
---
Other De Fonseka Families
Hewa Fonsekage Family:
Note the change of surname from Fonseka to De Fonseka around 1893
Hewafonsekage Abraham Fonseka (Wadduwa) and Gampola Fonsekage Agida Fonseka.
H. Emaliano Fonseka (b9.4.1870 Pohaddaramulla) and Weerahennedige Pavistina Fernando.

H Charles De Fonseka (b3.3.1893 Molligoda) and Apollonia (d 20.04.1921) on 30/08/1918.

Felix De Fonseka                       13/04/1921 Paiyagala

H Charles De Fonseka 03/03/1893 and Kottagoda Victoria Perera 13/02/1924.

Sextus Cyril De Fonseka  born 06/08/1924 Bambalapitiya md Gertrude Wolf de Fonseka.

Bernard de Fonseka md Muro (First Name Unknown)

Titus De Fonseka                         06/02/1926 Bambalapitiya

Theobald De Fonseka               01/04/1928 Bambalapitiya

Bridget Mary De Fonseka         07/10/1930 Bambalapitiya

Marius De Fonseka                     21/11/1931 Kalutara

Dorothy Juliet De Fonseka       11/04/1934 Kalutara

Stella De Fonseka                       03/08/1937 Kalutara

Francis Anthony De Fonseka   30/05/1939 Kalutara

Rita Margaret De Fonseka        28/08/1940 Dehiwela

Theodora De Fonseka               09/11/1943 Wadduwa
( Source: Bridget Mary de Fonseka/ Marie Pieris )
---
Fonseka Families ('Fonseka Parapuraval')



An analysis of the various Fonseka families, from the book 'Kurukula Charithaya'.  Translated from 'Kurukula Charithaya – II', A. S. F. Weerasuriya 1960, Page 280
---
My thanks to Andrew Buultjens for searching the parish registers and other church archives for most of these names.