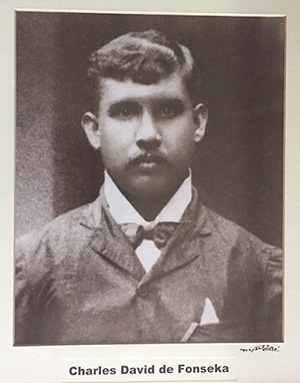 Charles David De Fonseka started a successful vinegar business in Eluvila, Panadura in 1896 under the name of C. D. De Fonseka and Sons, which is still being run very successfully by his grand son Rohantha De Fonseka. Charles David had twelve children. Eluvila is situated on the Horana road, and the picture below shows the ancestral home.
The Family Tree given below is incomplete, and any help to fill in the blanks are most welcome.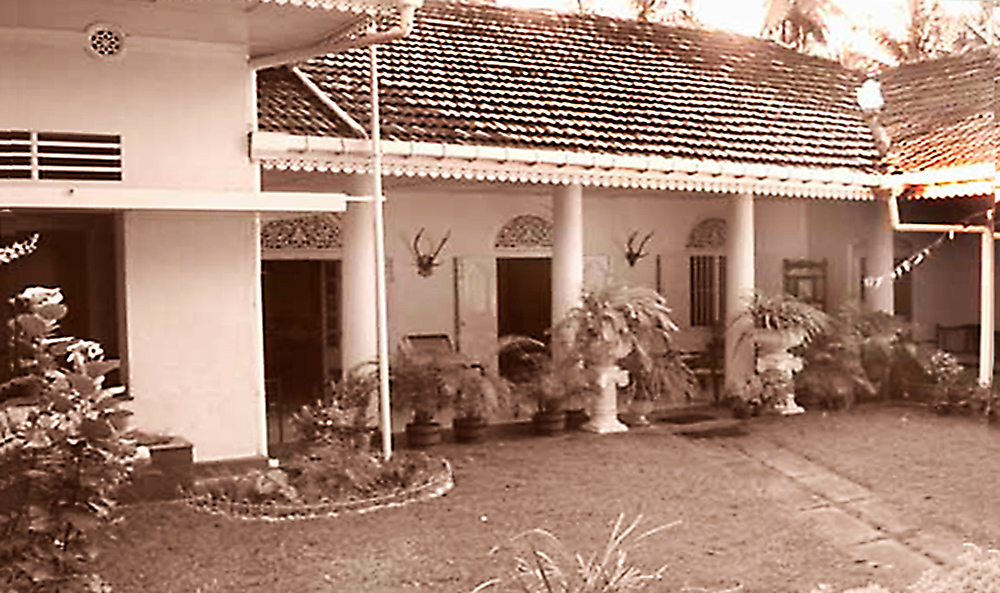 Charles David de Fonseka married (Unknown).
Charles L de Fonseka married (Unknown).

Amitha de Fonseka Md Ranjini

Charles Dickman de Fonseka married Doris Balasooriya.

Sriya de Fonseka md Kosala

Mahendra de Fonseka md Estella

Mahendra Charles de Fonseka

Priyanga de Fonseka md Devika (Australia)

Ravi de Fonseka

Neela de Fonseka

Premica de Fonseka

Chrisantha (Chris) de Fonseka (USA)

Ebert de Fonseka married Renee Melder.

Cyril Arnold de Fonseka married Kusuma Dias.

Doshantha Amal de Fonseka md Shamani Nimalka Fernando.

Sajith Kalinga de Fonseka (sajithdefonseka@gmail.com).

Sunith Dilantha de Fonseka. (sunithdefonseka@yahoo.co.uk)

Shiromi de Fonseka

Priyadari de Fonseka

Eric Bertram de Fonseka married Constance de Waas Gunewardena.

Sri Nimal de Fonseka

Yasoja de Fonseka md Athukorala

Rohantha de Fonseka md Yamuna

Duneesha de Fonseka

Dilanga de Fonseka

Sachini de Fonseka

Dayani de Fonseka md Wimalanath

Noel de Fonseka married Seelat Fernando.

Nihal de Fonseka md Sandya

Beatrice de Fonseka married Fred Abeysuriya.

Punya Abeysuriya md Rohini

Luckshan Abeysuriya md Barbara

Sarath Abeysuriya md Sriyani

Ranjith Abeysuriya md Indrani

Nalendra Abeysuriya md Shama

Jayampathi Abeysuriya md Ramya

Suranganee Abeysuriya md Manolal

Kate de Fonseka married Aleric Abeygunawardena.

Manolal Abeygunawardena md Suranganee

Nelum  Abeygunawardena md Mahendra

Kumar Abeygunawardena md (Unknown)

Anoma Abeygunawardena md Upali 

Sybil de Fonseka married Herbert Wijekulasooriya.

Nilanthi Wijekulasuriya md Tissa

Isha Wijekulasuriya md Roshan

Dulcie Violet de Fonseka married Walter de Silva.

Sita de Fonseka married Dharmadasa De Silva.

Lal de Silva md Amal

Enoka de Silva md Shanthi
Photograph and Data courtesy of Duneesha de Fonseka.