A veritable Who's Who of the early part of the Century and a much valued book, this is the only book to have pictorial references to our ancestors. The references to de Fonseka families have been scanned and included below.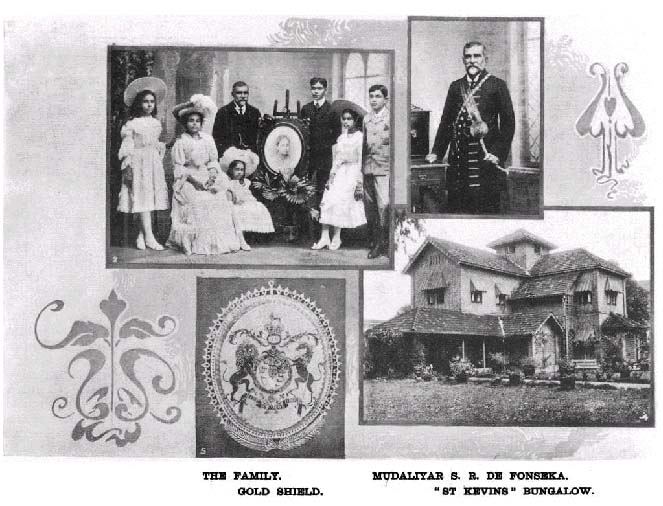 ---
References to Simon Richard de Fonseka (page 538):
Simon Richard de Fonseka is the son of Carolis de Fonseka, Mohandiram, who was married to Welhelmina de Fonseka1, a member of the same family. She was the daughter of Selestinus de Fonseka, Mudaliyar of Kalutara, whose father was Johannes de Fonseka, Mudaliyar, the recipient of a gold medal from Governor North, in 1819, for meritorious services rendered during the early period of the British occupation of the island. Carolis de Fonseka, above-named, was the son of Solomon de Fonseka, who was married to Selestina, the daughter of Renoldus de Anderado, Mudaliyar, and grandson of Pedru Fonseka, Mohandiram and Interpreter to the Oppertroofd of Kalutara in the Dutch service in 1760.
Simon Richard de Fonseka was born in 1854, and entered Government service in 1873. In 1886 he was appointed chief clerk of the Provincial and District Road Committees, Western Province. He married in 1883, Louisa the eldest daughter of Juan de Silva Jayasingha, and has six children, viz. Simon Richard Jnr., Law student, Lydia Florence, Lional Stanley, prosecuting his studies in England, Muriel Letitia, Louisa Bridget, and May Elain. In 1892 he was invested with the rank of Mudaliyar by Sir Arthur Havelock. He lost his wife in 1902.
The family is descended from Don Michael de Fonseka, Adigar. Don Michael de Fonseka is mentioned in Baldeus2 "Description of Ceylon, 1672" and was married to the daughter of Don Manuel de Anderado, Adigar. In 1658, under Admiral Ryekloff van Goens; Don Michael de Fonseka accompanied his father in law in the expedition under which Jaffna was taken by the Dutch. Baldeus and other early writers speak of Don Manuel de Anderado as having rendered signal service to the Dutch.
(1)The genealogy table lists one Louisa as the wife of Carolis de Fonseka whilst this page (from 20th Century Impressions) refers to Welhelmina, daughter of Selestinus de Fonseka as his wife. This is most probably correct. Carolis de Fonseka first married Wilhelmina, daughter of Selestinu de Fonseka. His second marraige was to Louisa D'andrado, daughter of Bastian D'andrado.
(2)The references as mentioned by Baldeus in his book A Description of Ceylon , is included in the Reference page.
---

References to E. C. De Fonseka (page 618):

On the death of Mr. W. A. Fernando, the business passed into the hands of his son-in-law, Mr Edmund Clarke de Fonseka, a Proctor at 'Arcadia', Rosmead Place, Cinnamon Gardens Colombo, adjoining the principal stores, and in whose capable hands the traditions of the late Mr. W. A. Fernando are worthily upheld.
The late Mr. W. A. Fernando (d1901) was one of the pioneers of the plumbago trade in Ceylon and owned mines in Hikgaha (Kurunegala), Goluwanmulle (Galle) and Himbutamulle (Colombo) and also owned a transport fleet to transport to the railways, and to the stores at Browning Street (now Rosmead Place) and Jawatte. He won many medals from 1860 to 1904 at various exhibitions for the quality of his plumbago.
---
Reference to Cecilia Elizabeth de Fonseka (page 552):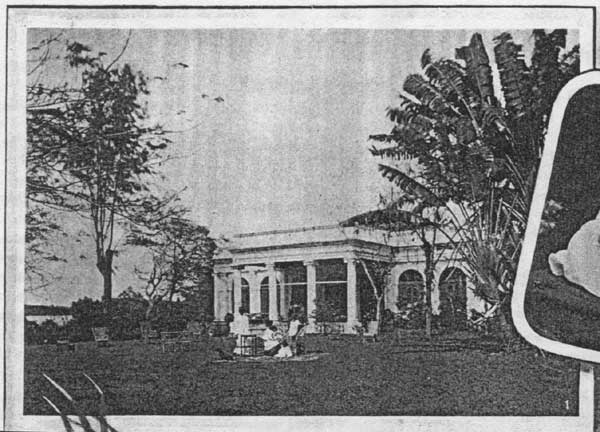 Mr Louis H. S. Pieris, Barrister-at-law and Advocate of the Supreme Court of Ceylon, was born at Caldecott, in the Colpetty division of Colombo on June 4, 1879. He is the son of Louis Pieris and Cecilia Elizabeth de Fonseka, the latter a direct descendant of Anderado Adigar, mentioned in the history of the Dutch period in Ceylon. The residence of Mr.& Mrs. Louise H. S. Pieris was at 'Whist Bungalow' in Mutwal. The bungalow was the celebrated residence of Sir Richard Morgan. An account of the house could be found in two books. One by Ernst H. Haeckel who in his book 'A Visit to Ceylon' published in 1883 devotes a considerable portion of one chapter to describe the attractions of this property. 'A Description of Ceylon' published in London in 1807 and written by Rev. James Cordinor M. A., chaplain to the garrison of Colombo, gives an account of the 'Whist Club' from which the house derives it's name.
---
Reference to Michaela de Fonseka (page 746):
Mr W. Lodvin Fernando, landed proprietor and planter of Marawila, married Agnes Emerintina , daughter of Warnakula Aditta Arasanilaitta Alvino Lowe and Michaela de Fonseka, daughter of Manuel de Fonseka, Mudaliyar of Kalutara Totamune, and a descendant of the Andrado family, of which the history is given in the biographical sketch of Mudaliyar Simon de Fonseka.
---

Reference to Frederick de Fonseka (page 648):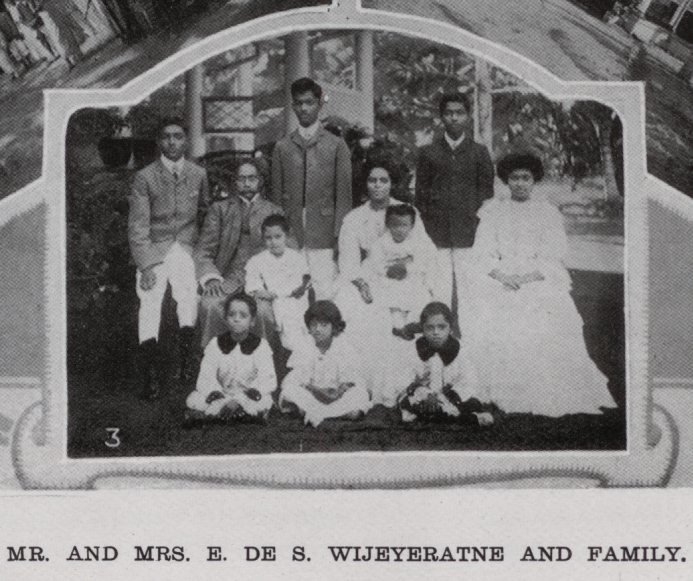 Mr Emmanuel de Silva Wijeratne was married a second time in 1897 to Anne Claribel Mary de Fonseka, daughter of Frederick de Fonseka, Superintendent of Minor roads, Negambo, and granddaughter of Manuel de Fonseka, Mudaliyar of Kalutara.
---

Reference to Stella Victoria de Fonseka (photograph in page 649): 
Miss Stella Victoria de Fonseka is indicated as having married Mr Don Joseph Arsekularatne, Proctor Supreme Court and Notary, grandson of Mrs. Juliana de Silva Wijeyeratne (b1825/d1905).
---

 Reference to Adelene Winifred de Fonseka (page 580):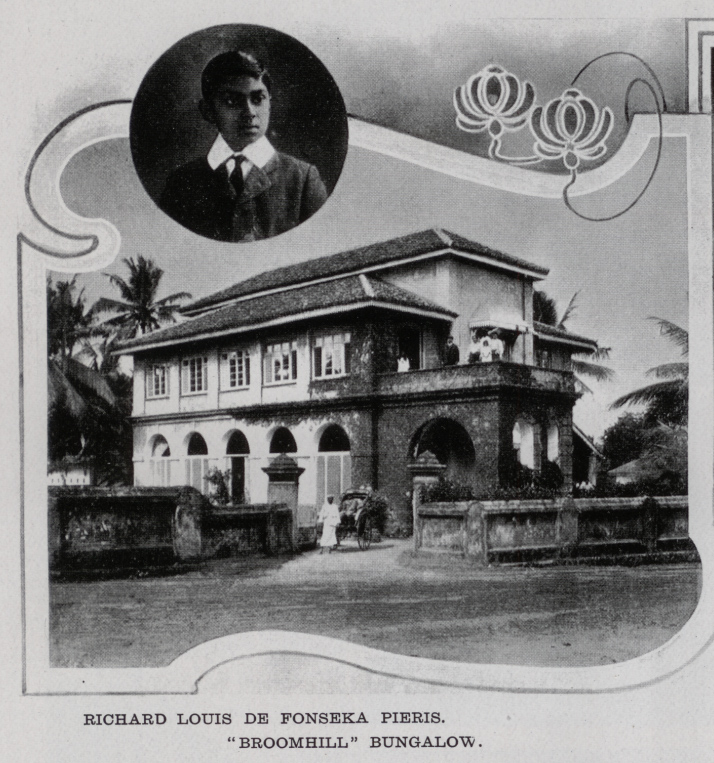 Mr. Richard Steuart Pieris, who is the oldest son of the late Mr. Jeronis Pieris of the 'Firs', Cinnamon Gardens, Colombo, was born at Moratuwa in 1858. In 1886 he married Adeline Winifred, daughter of the late Mr. Simon Reynold de Fonseka, Proctor and landed proprietor, of 'River View', Kalutara  South. The eldest son of this union is Mr. Richard Louise de Fonseka Pieris, who was born at Colombo in 1889. Mr Pieris's second son was Lionel Fonseka. Mr. Pieris's private residence in Colombo is at 'Broomhill', Green Path.
---
Reference to L. C. De Fonseka W. T. Samarakkody:
In the Saka year 1675, corresponding to A.D. 1750, in an account given of King Kirti Sri Rajasinha, of Kandy, translated by Paul E. Peiris, N.A.C.C.S:, barrister-at-law, appears the record of the return of the embassy which the king had sent to Siam, and amongst the officers delegated to meet these ambassadors figures the name of Samarakkody, the Uda­gampaha Adigar, from whom the subject of this sketch is descended. The Adigar's descendant was Johan de Fonseka Samarasundere Seneviratne Samarakkody, who was the Muda­liyar of Hewagam Korale under the Dutch administration. His eldest som, Paulis was Mohandiram in the same Korale, and his second son, Andris, who married the sister of Don Abraham Dissenaike, second Mudaliyar of Hewagam Korale, was Atapattu Mohandirain of Colombo in the same government. Louis grandson of Johan de Fonseka Samarakkody, was attached to the Colombo Kachcheri as Clerk and Commutation Assessor. He married Francina, daughter of Paules de Livera Weerakon, Mohandiram of Hapitigam Korale, and their son, Louis Charles de Fonseka Wijeyewickkrame Tillekeratne Samarakkodv, whose name heads this sketch, was born at Colombo in 1840.
He received his education at Colombo Academy and St. Thomas's College, and entered the Government service in 1861, attached to the Court of Requests, Colombo, as sworn Translator. He also served in the Colombo Kachcheri, and became Mohandiram of Alutkuru Korale, South, and then was appointed Mudaliyar of the Kegalla Kachcheri. He was President of six Village Tribunals in three different Korales, and was appointed Mudaliyar of the Governor's Gate in 1883. Twelve years later he retired from Govern­ment employ, after thirty-eight years of continuous service.
In 1871 he married Cornelia Fredrica, the daughter of Jacobus Dionysius de Silva Siriwardene, Atapattu Mohandiram of Colombo (whose grandfather, David de Silva Siriwardene, was Mudaliyar of Rayigam Korale, and 'whose father, Simon de Silva Siriwardene, was Maha Mudaliyar). Of the sons of this marriage, Charles Henry Augustus is Mudaliyar of Pasdun Korale East; Charles Peter, a Mohan­diram of the Governor's Gate, is a planter, who is married to Anne Kathereen, daughter of John Nicholas Dissenaike Tillekeratne, Mudaliyar of Matara; Charles Edwin is a Proctor of the District Court of Colombo and Charles William is a senior student of Wesley College, Colombo. Mr. Samarakkody has three daughters, Charlotte Henrietta, Mary Elizabeth, and Jane Cecilia.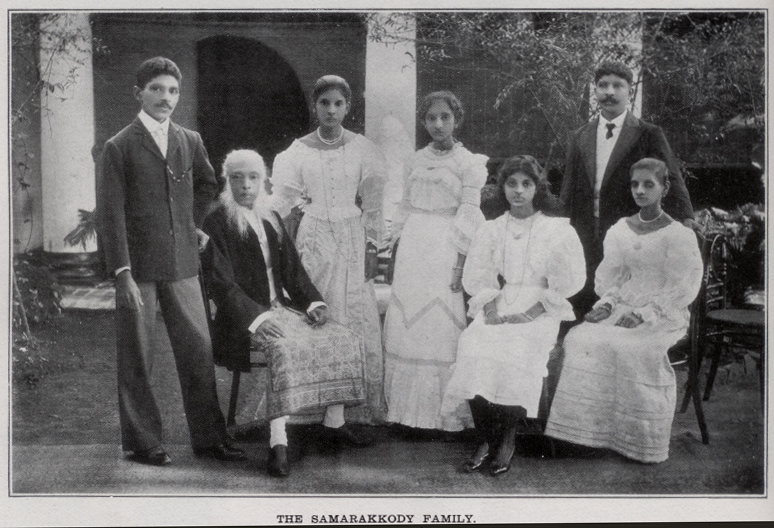 Amongst his family possessions, Mr. Samarakkody treasures a gold medal given to his uncle Carolis de Fonseka Tillekeratne Samarakkody, Mudaliyar, by Governor Sir Robert Brownrigg in 1818 for his meritorious Services to the British Government during the Kandyan Rebellion, and a Jubilee gold medal presented to him by Governor Sir West Ridge­way. He resides at "Lovedale", Jampettah Street, Colombo.