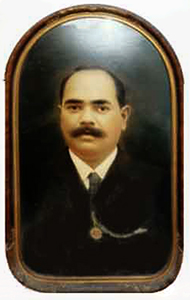 Frank De Fonseka married Victoria Evangeline Fernando from the family of  Eu Periano Mariano Fernando of Felix Villa, Kalutara.
(Frank is the brother of Edmond Clarke de Fonseka listed in the genealogy chart. Frank together with another brother Luke and sisters Emmie and Louisa, are not listed in this chart. His wife Victoria died after giving birth to Dora de Fonseka. Later on he married one Maria Perera. )
The name in bold denotes the name generally used. A nickname if any, is given within brackets (in italics) . If a portion of a name is underlined, you can click on it, to go directly to that persons family/Personal page which will contain more details.